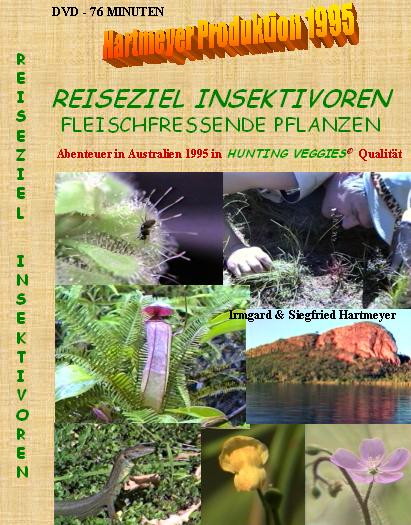 Etwa 80 Minuten



About 80 minutes
Unsere privaten Videos über das "Gemüse auf der Pirsch"
in
HUNTING VEGGIES
®
-Qualität
---
Reiseziel Insektivoren (Fleischfressende Pflanzen)

1995 zieht es uns erneut nach Down Under. Natürlich stehen die Fleischfressenden Pflanzen wieder im Mittelpunkt, wenn wir mit einem Australier durch die Kimberleys fahren und fliegen. In Kununurra (Kimberley) - einem Hot Spot für Karnivoren - erleben wir unangenehme, aber auch äußerst erfolgreiche Abenteuer und können diverse Pflanzen (z.B.

Byblis filifolia

, erstmals

Drosera hartmeyerorum

,

Drosera ordensis

) am Naturstandort filmen, sowie die Symbiose mit Blindwanzen auf den tropischen Arten dokumentieren. Dann geht es weiter nach Darwin, wo es natürlich wieder viele Fleischis zu sehen gibt und last but not least fliegen wir nach Cairns, um uns mit Trevor Hannam und seiner Frau Cay zu treffen. Dank ihrer Hilfe können wir auch noch einen Standort der australischen

Nepenthes mirabilis

filmen. Dieser Film heißt in der englischen Fassung "BEAUTIFUL & HUNGRY PART 2". Durch die hier (u.a.) gezeigte erste Begegnung mit

Drosera hartmeyerorum

, hat der Film nichts von seiner Aktualität verloren. Beide Versionen sind bis auf die Sprache identisch.

€ 15,- (plus Porto)



Dieser Film wurden noch mit S-VHS Videokamera aufgenommen, jedoch 2004 auf DV-Band digitalisiert und auf DVD umgestellt.

---

Beautiful And Hungry Part 2



This production from 1995 in the German language received a great feedback. Beside many plants and symbiotic bugs we experience the first encounter with Drosera hartmeyerorum (at that time still called D. indica "red"). Actually, carnivorous plants (CP) are the main topic when we drive and fly through the Kimberley region, accompanied by an Australian. At the small town Kununurra (Eastern Kimberley), a hot spot for CP, we experience a bad surprise but additional some very successful adventures. We show numerous plants (Byblis filifolia, for the first time Drosera hartmeyerorum, Drosera ordensis and even more) in their natural habitat, and report about the mutualism between the tropical CP and different Capsid bugs. Then we proceed to Darwin, filming again many CP and last but not least we fly to Cairns in Northern Queensland, where we meet Trevor and Kay Hannam who enable us to find a growing site of the Australian variety of the tropical pitcherplant Nepenthes mirabilis.

This film in the English language is identical with the German version "Reiseziel Insektivoren".



€ 15,- (+ postage)



This movie has been filmed in S-VHS video format and was remastered to DV-tape and rendered to DVD in 2004.