Der Film ist in englischer Sprache, jedoch auch mit weniger Sprachkenntnissen aufgrund der Bilder leicht verständlich.

Für mehr Bilder auf das Cover klicken.


Click on cover for pictures



Copyright: Irmgard and Siegfried R.H. Hartmeyer
Wir
präsentieren die weltgrößte Spezialgärtnerei für Kannenpflanzen

BORNEO EXOTICS
in Sri Lanka (Dezember 2004)
Im Dezember 2004 besuchten wir die größte Spezialgärtnerei für tropische Kannenpflanzen (

Nepenthes

)
BORNEO EXOTICS
auf Sri Lanka. Robert Cantley persönlich führt darin durch zahlreiche Gewächshäuser im Tiefland bei Colombo und im Hochland nahe Nuwara Eliya. Seine Kommentare in dialektfreiem Englisch und die herrlichen Pflanzen ergänzen sich zu einem sehr unterhaltsamen Bericht, nicht nur für Nepenthes Experten. Im sterilen Labor dokumentieren wir die aufwendige Vermehrung mittels Zellkultur, keine der angebotenen Pflanzen wurde der Natur entnommen. Es gibt viele optische Leckerbissen für alle Karnivoren Freunde, aber auch sehr traurige Momente, wenn Hunderte herrlicher

Nepenthes

aus Gründen des Lizenzrechts vernichtet werden müssen. Dazu erhielten wir atemberaubende Aufnahmen von Robert Cantley. Der Film ist in englischer Sprache, jedoch auch mit weniger Sprachkenntnissen leicht verständlich.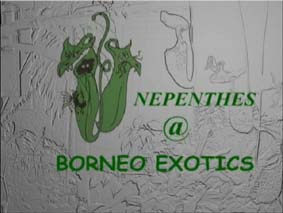 € 15,-

(plus Porto)


HUNTING VEGGIES
®
featuring the world largest nursery for tropical pitcher plants
BORNEO EXOTICS
in Sri Lanka (December 2004)
Not only since our free download on the internet, this movie received a very nice feedback. Robert Cantley himself guides us through his Nepenthes lowland nurseries near Colombo, and through his highland nurseries near Nuwara Eliya. His comments on numerous beautiful pitcher plants guarantee a really entertaining report, not only for Nepenthes experts. We also document the large- scale propagation by tissue culture at the sterile laboratory. Our footage provides numerous botanical titbits for every friend of tropical pitcher plants, however, also some very sad moments can be experienced, when hundreds of wonderful Nepenthes must be destroyed for licence reasons - incredible pictures that we received by Robert Cantley.